How can you buy this software?
Caution The program is no longer supported.
You can buy Key o'key via the registration service SWReg or Shareit (registrator). Registrator accepts all forms of payments from individuals and corporate customers (Mastercard, Eurocard, VISA, Delta, JCB, Switch, Solo, Discover, American Express, Diner's Club, UK cheque, US check, Postcheque, International Money Order, Bank wire and PayPal).
You have to send your RegCode ("Getkey" button in the registration window) to my e-mail. You'll get your registration key after that. The registration key you get will remove time limitation of the program. This code is usable for all versions of the program Key o'key. You can receive updates of this software free of charge.
A small utility "Speed o'key" is offered to all registered users as a bonus.
If you haven't received the registration key after your order and sending payment to the registrar (allow 48 hours), please contact me. Don't worry! All problems will be solved as quickly as possible.
Registration window
The keyboard simulator is shareware software.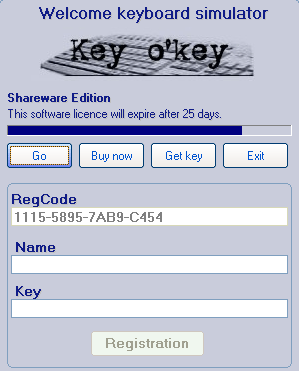 In the upper part of the window the indicator showing the remaining period of working the unregistered trainer copy is located.
4 buttons are located below the indicator:
"Exit" - stops the program;
"Buy now" - starts the payment procedure on SWReg server;
"Get key" - sends the RegCode, necessary for receiving the registration key to e-mail;
"Go" - continues working of the program (button becomes inactive after expiration of 30-days trial period, and can be activated only after registration).
Registration panel:
"RegCode" field displays the unique code necessary for registering the program;
"Name" field is made for entering the name, that user gets after registration;
"Key" field is made for entering the registration key.
"Registration" button becomes active after filling "Name" and "Key" fields. Trial limitation is removed by pressing this key.
Top ⇑