Online Typing Tutor: Introduction
All the instructions given relate to standard QWERTY keyboard layout. Users preferring Dvorak layout shall make the appropriate corrections.
The standard English language keyboard layout (QWERTY) consists of 5 rows. Keyboards of different manufacturers may vary slightly from the Mitsumi Classic shown on the picture below.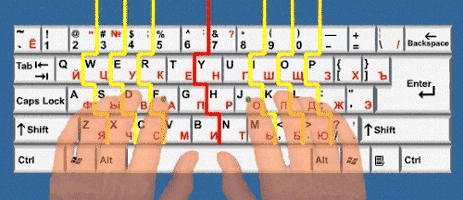 The first row contains modifier keys and the Space Bar.
The second row contains 10 alphabetic keys and 2 Shift keys used to type capital letters.
The third row contains 11 alphabetic keys and the Caps Lock key (locks the capital letters typing) and the Enter key (generally used to complete an operation, but here is used to end the current line and move a cursor to the next line).
The fourth row contains 12 alphabetic keys and the Tab key.
The fifth row contains 14 alphabetic keys and the Backspace key.
Totally, we have 47 alphabetic keys and the Space Bar. In particular, these keys are mostly used in touch-typing.
Top ⇑